The key to defeating MND lies in fostering strong collaboration between leading researchers around the world, and sharing new understanding of the disease as rapidly as possible. This was the MND Association's rationale behind the creation of the International Symposium on ALS/MND.
Each year, the Symposium attracts over 1,000 delegates, representing the energy and dynamism of the global MND research community. It is the largest medical and scientific conference specific to MND/ALS and is the premier event in the MND research calendar for discussion on the latest advances in research and clinical management.
Virtual Symposium 2022
Following the success of last year's virtual Symposium and the ongoing challenges caused by the global pandemic, the MND Association's 33rd International Symposium on ALS/MND in December 2022 will once again be held online.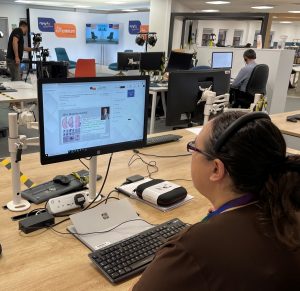 Whilst we are incredibly disappointed in having to make this decision, we can do so in the knowledge that over the past two years we have demonstrated the success of the online event. The 32nd International Symposium on ALS/MND welcomed over 1,500 delegates from 44 countries from a COVID- secure studio at the Association's offices in Northampton, UK.
We hope you will join us to ensure that this year's event is even more successful in fostering exchange of knowledge and information and catalysing new ideas and collaborations that take us closer to understanding, treating and defeating ALS/MND.
For any more information on our Symposia, please visit the following pages: