The 30th International Symposium on ALS/MND was held in Perth, Australia on 4-6 December 2019. See below for the programme of platform presentations. Please note that the programme is subject to change.
Abstract numbers of each talk can be found at the beginning of each title (e.g., #C110). You can print the programme by clicking on the button at the bottom of this page. A PDF version of the programme will be available in due course.
To find out more about this year's plenary speakers, please visit the Speakers webpage. To view abstracts of each talk, please visit the Abstracts online webpage.
To view the latest and final version of the the programme, please click the orange button: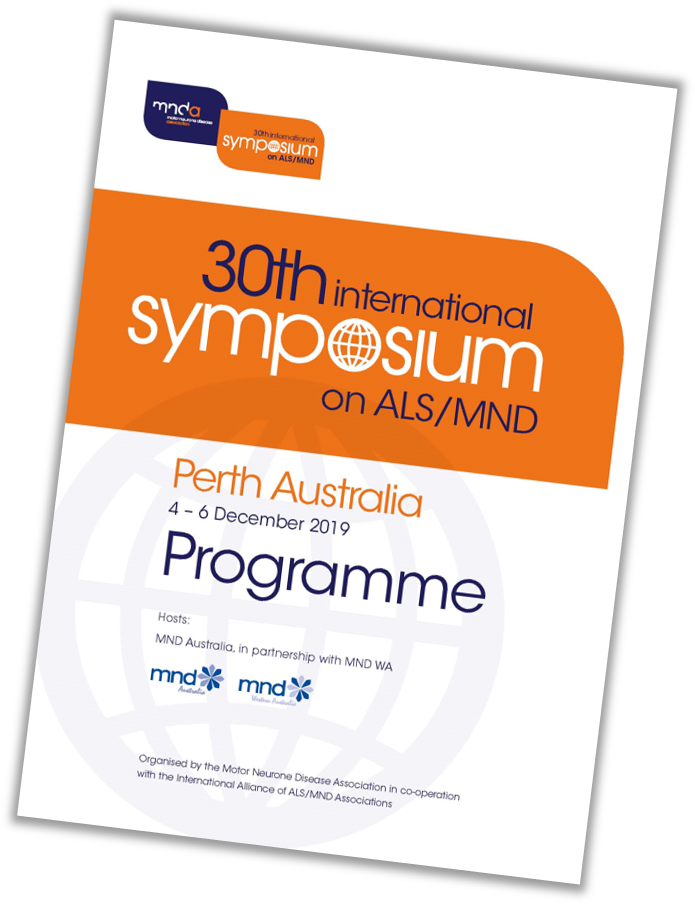 DAY 1 (Wednesday 4 December 2019)
SESSION 1: JOINT OPENING SESSION
08.30 - 08.35: Welcome to the 30th International Symposium on ALS/MND K Talbot and S Light (UK)
08.35 - 08.45: Welcome on behalf of MND Australia & Welcome to Country ceremony
08.45 - 09.20: #C1 Glymphatic system dysfunction as a driver of protein mis-aggregation in neurodegenerative disease | J Illif (USA)
09.20 - 09.55: #C2 The Biomarker Challenge: What is it and are we nearly there? | M Turner (UK)
09.55 - 10.05: International Alliance Humanitarian Award
10.05 - 10.25: IPG Award and winner's research presentation
SESSION 2A
PROTEOSTASIS / PROTEOTOXICITY
11.00 - 11.30: #C3 The fine balance of proteostasis and its implications for ALS | J Yerbury (Australia)
11.30 - 11.45: #C4 Cytoplasmic TDP-43 alters the solubility and abundance of numerous proteins in ALS/FTD pathology | T Hedl (Australia)
11.45 - 12.00: #C5 Monitoring autophagy dynamics in motor neurons in vivo using a novel reporter mouse model of ALS shows early impairment of autophagy flux | N Perera (Australia)
12.00 - 12.15: #C6 Selective clearance of misfolded SOD1 delays onset in animal models of ALS | J Kong (Canada)
12.15 - 12.45: #C7 Non-protein amino acids and neurodegenerative disease | K Rodgers (Australia)
SESSION 2B
CLINICAL TRIALS
11.00 – 11.30:  #C8 The ALS Platform Trial: Design considerations and statistical efficiencies | B Saville (USA) and S Paganoni (USA)
11.30 – 11.50: #C9 A phase Ib/IIa Open Label trial of MN-166 (Ibudilast) in ALS: A biomarker endpoint-based clinical trial | S Babu (USA)
11.50 – 12.10 #C10 Modulation of innate immunity by MSC-NTF cells (NurOwn®) correlates with ALS clinical outcomes | R Kern (Israel)
12.10 – 12.30 #C11 Safety, PK, PD and exploratory efficacy in single and multiple dose study of a SOD1 antisense oligonucleotide (Tofersen) in participants with ALS | T Miller (USA)
SESSION 2C
CLINICAL ELECTROPHYSIOLOGY
11.00 – 11.15: #C12 Novel threshold tracking TMS assessment of trancallosal inhibition identifies potential mechanism for interhemispheric disease spread | M van den Bos (Australia)
11.15 – 11.30: #C13 Cortical hyperexcitability and cognitive dysfunction in ALS | M Higashihara (Australia)
11.30 – 11.45: #C14 Spinal hyperexcitability in ALS is extrinsic to motoneurons | V Marchand-Pauvert (France)
11.45 – 12.00: #C15 Asymmetry of cortical dysfunction identifies regions of onset and relates to clinical heterogeneity in ALS | T Dharmadasa (Australia)
12.00 – 12.15: #C16 Neurophysiological index is associated with the survival of patients with ALS | B Cao (China)
12.15 – 12.30: #C17 The split hand in ALS: A possible role for the neuromuscular junction | M de Carvalho (Portugal)
12.30 – 12.45: #C18 The rise and fall of fasciculations in amyotrophic lateral sclerosis | J Bashford (UK)
SESSION 3A
SYNAPTIC PATHOLOGY
14.00 – 14.30: #C19 Neuromuscular degeneration in ALS and SMA | H Nishimune (USA)
14.30 – 14.50: #C20 Modeling ALS: Human neuromuscular junctions in a dish | K Dittlau (Belgium)
14.50 – 15.10: #C21 Loss of c9orf72: A problem at the synapse? | J Robertson (Canada)
15.10 – 15.30: #C22 Can oestrogen protect against the synaptic plasticity deficits that underlie motor cortex dysfunction in ALS? | C Blizzard (Australia)
SESSION 3B
DEMOGRAPHICS AND CLINICAL FEATURES
14.00 – 14.30: #C23 ALS: Phenotypes, demographics and clinical management in Asia | N Shahrizaila (Malaysia)
14.30 – 14.50: #C24 Prognosis and clinical features of ALS patients in Japan | N Atsuta (Japan)
14.50 – 15.10: #C25 ALS in Latin America: A population-based incidence study in three countries | O Hardiman (Ireland)
15.10 – 15.30: #C26 How frequent are pauses in ALS progression? Results from a population-based cohort | A Calvo (Italy)
SESSION 3C
GENOMICS
14.00 – 14.30: #C27 Future directions in ALS genomics | N Wray (Australia)
14.30 – 14.45: #C28 GWAS in ALS identifies novel loci and insight into the genetic architecture | J Veldink (Netherlands)
14.45 – 15.00: #C29 Genome-wide meta-analysis identifies new loci associated with ALS and links body mass index with disease genetics | A Iacoangeli (UK)
15.00 – 15.15: #C30 Unbiased genome-wide screen identifies new ALS risk variants within gene-regulatory elements | J Cooper-Knock (UK)
15.15 – 15.30: #C31 Computational efficient method to detect genetic interactions associated with age of onset in an ALS genome-wide association study | J Gui (USA)
SESSION 4A
THERAPEUTIC STRATEGIES
16.00 – 16.30: #C32 Designer DNA drug therapy for human neurodegenerative disease | D Cleveland (USA)
16.30 – 17.00: #C33 iPSC-derived models for genetic and compound screening in ALS | S Finkbeiner (USA)
17.00 – 17.15: #C34 An AI drug discovery case study establishing new neuroprotective compounds for treating ALS | R Paul (UK)
17.15 – 17.30: #C35 Machine learning to accelerate drug discovery: A novel small molecule rescues ALS phenotypes in preclinical models | I Choi (USA)
17.30 – 17.45: #C36 Relevance of the therapeutic agent CuATSM to sporadic ALS - | P Crouch (Australia)
SESSION 4B
NON-MOTOR SYMPTOMS
16.00 – 16.30: #C37 Pseudobulbar affect in ALS: Not (only) a laughing matter | E Pioro (USA)
16.30 – 16.50: #C38 Psychosis risk states in FTD-MND | A Wilcox (UK)
16.50 – 17.10: #C39 Progression of cognitive and behavioural impairment in early ALS | J Raaphorst (Netherlands)
17.10 – 17.25: #C40 Association between oculomotor dysfunction and cognitive impairment in ALS | N Ticozzi (Italy)
17.25 – 17.40: #C41 Cognitive dysfunction as an endophenotype in C9orf72 positive ALS | M Ryan (Ireland)
SESSION 4C
EMERGING TISSUE BIOMARKERS
16.00 – 16.20: #C42 Disease progression in ALS: Cell senescence and metabolism in the driving seat | A Malaspina (UK)
16.20 – 16.40: #C43 Myeloid cells and complement c5aR1 are associated with clinical features in ALS patients | T Woodruff (Australia)
16.40 – 17.00: #C44 Chitotriosidase level and activity rises in the pre- and early symptomatic phases of ALS | A Thompson (UK)
17.00 – 17.20: #C45 Isolation and enrichment of neural-derived exosomes from plasma of ALS patients and characterisation of their miRNAome using next-generation sequencing | R Dunlop (USA)
17.20 – 17.40: #C46 Identification of new plasma-based biomarkers for ALS by RNA sequencing of leukocytes | Y Chen (China)
DAY 2 (Thursday 5 December)
SESSION 5A
TDP-43
08.30 – 08.50: #C47 Validation of TDP-43 splicing repression as a therapeutic target for ALS-FTD | P Wong (USA)
08.50 – 09.10: #C48 Targeting the nucleocytoplasmic transport machinery: why does TDP-43 mislocalise? | M Morsch (Australia)
09.10 – 09.30: #C49 TDP-43 triggers mitochondrial DNA release to activate cGAS/STING in ALS | Alan Yu (Australia)
09.30 – 09.45: #C50 Detection and quantification of pathological C-terminal TDP-43 fragments in post mortem brain tissue | E Feneberg (UK)
09.45 – 10.00: #C51 Super-resolution characterisation of TDP-43 aggregation in ALS | O Kantelberg (UK)
SESSION 5B
CARER AND FAMILY SUPPORT
08.30 – 09.00: #C52 Supporting MND family carers from diagnosis to bereavement: The palliative approach to care | S Aoun (Australia)
09.00 – 09.30: #C53 Research and support for young caregivers in families with ALS | M Kavanaugh (USA)
09.30 – 09.45: #C54 When the shared journey ends: The enduring impact of ALS on bereaved caregivers | M Galvin (Ireland)
09.45 – 10.00: #C55 Individual quality of life among spousal ALS patient-caregiver dyads | M Galvin (Ireland)
SESSION 5C
THE SPECTRUM OF MOTOR NEURON DISORDERS
08.30 – 09.00: #C56 Lessons from SBMA: pathophysiology, clinical characteristics and treatment strategies | G Sobue (Japan)
09.00 – 09.30: #C57 ALS-PDC of the Kii Peninsula, Japan: Clinical and neuropathological features and epidemiology | S Kuzuhara (Japan)
09.30 – 09.45: #C58 Genotype phenotype correlation and longitudinal study of hereditary spastic paraplegia and primary lateral sclerosis | J Statland (USA)
09.45 – 10.00: #C59 Infant with MND caused by homozygosity for a SOD1 mutation and no SOD1 enzymatic activity: Implications for clinical trials to depress the level of SOD1 | P Andersen (Sweden)
---
POSTER SESSION A
10.30 - 12.30
---
SESSION 6A
HUMAN CELL BIOLOGY AND PATHOLOGY
14.00 – 14.30: #C60 Investigating the role of endogenous retroviruses in ALS | A Nath (USA)
14.30 – 14.45: #C61 Antiviral immune response as a trigger of FUS proteinopathy in ALS | T Shelkovnikova (UK)
14.45 – 15.00: #C62 Distinct autoimmune antibody responses towards TDP-43 in ALS | T Brudek (Denmark)
15.00 – 15.15: #C63 Cell autonomous dysfunction of brain pericytes in ALS: Impaired regulation on interleukin-6 by TDP-43 | E Scotter (New Zealand)
15.15 – 15.30: #C64 Defective phagocytic function is associated with rapid progression in ALS patients | Seung Hyun Kim (Korea)
SESSION 6B
PALLIATIVE CARE
14.00 – 14.40: #C65 Palliative care and healthcare utilization at the end of life in people with ALS | L Deliens (Belgium)
14.40 – 15.10: #C66 A trial of suprascapular nerve block for shoulder pain in motor neuron disease | P Allcroft (Australia)
15.10 – 15.30: #C67 Positive impact of physical exercise on ALS patients' QoL and effective state | D Lulé (Germany)
SESSION 6C
NEUROIMAGING
14.00 – 14.30: #C68 Is ALS a network disease? | J Grosskreutz (Germany)
14.30 – 14.50: #C69 Disruptions in cortical structures and pathways precede the development of ALS in asymptomatic C9orf72 familial ALS | N Geevasinga (Australia)
14.50 – 15.10: #C70 Spinal cord MRI for early detection of presymptomatic pathology in C9orf72 mutation carriers: A longitudinal neuroimaging study | G Querin (France)
15.10 – 15.30: #C71 'Next generation' cervical cord MRI in ALS reveals marked atrophy and corticospinal tract degeneration | P Nestor (Australia)
SESSION 7A
GENETICS
16.00 – 16.20: #C72 Association of a poly-T structural variant within the SCAF4 gene and ALS | J Pytte (Australia)
16.20 – 16.40: #C73 Intronic structural variant within stathmin 2 gene (STMN2) impacts disease duration in sporadic ALS | F Theunisen (Australia)
16.40 – 17.00: #C74 Correlating survival by SOD1 variant in global ALS cohort identifies variants with a strong effect on prognosis | S Opie-Martin (UK)
17.00 – 17.20: #C75 Novel software 'TRIBES' enables distant relationship and disease variant discovery in Australian ALS | N Twine (Australia)
17.20 – 17.40: #C76 Relatedness mapping and IBD analysis of Australian sporadic ALS/FTD identifies distantly related sALS cases with a mutation in FIG4 and implicates two new genome-wide loci linked to sALS and FTD |K Williams (Australia)
17.40 – 17.50: Late breaking news: Exome sequencing in ALS implicates a novel gene, DNAJC7, encoding a heat-shock protein | A Iacoangeli (UK)
SESSION 7B
IMPROVING CARE PRACTICE
16.00 – 16.30: #C77 Progressive neurological diseases: Modelling care | S Mathers (Australia)
16.30 – 16.45: #C78 Breaking the news of the MND diagnosis: The gap between standards and actual practice | S Aoun (Australia)
16.45 – 17.00: #C79 Development of the MiND Toolkit for management of cognitive and behavioural impairment in MND: A modified Delphi method | R Radakovic (UK)
17.00 – 17.15: #C80 Terminal Care in patients with MND: A clinical audit of inpatient and community patients | A Kulkarni (Australia)
17.15 – 17.30: #C81 Telehealth provides meaningful contributions to patient care in ALS | K Atkins (Australia)
17.30 – 17.45: #C82 The impact of mental health on acute health service provision in MND: a big data study | J Trollor (Australia)
SESSION 7C
BIOENERGETICS AND METABOLISM
16.00 – 16.15: #C83 Metabolic rewiring in ALS | D Zarnescu (USA)
16.15 – 16.30: #C84 Manipulation on bioenergetic pathways in motor neuron diseases | H Chaytow (UK)
16.30 – 16.45: #C85 Mitochondrial bioenergetic profile in platelets as a biomarker for ALS | M Kazamel (USA)
16.45 – 17.00: #C86 Altered skeletal muscle glucose-fatty acid flux in ALS | S Kirk (Australia)
17.00 – 17.15: #C87 Metabolic dysfunction in MND: A 31-phosphorous magnetic resonance spectroscopy study | M Sassani (UK)
17.15 – 17.30: #C88 Brain metabolic correlates of King's staging system in ALS: A 18F-FDG-PET study | A Chio (Italy)
17.30 – 17.45: #C89 Lipids, apolipoproteins and prognosis of ALS | C Ingre (Sweden)
---
POSTER SESSION B
18.00 - 20.00
---
DAY 3 (Friday 6 December)
SESSION 8A
DISEASE MODELS
08.30 – 09.00: #C90 Mouse models of ALS: Past, present and future | B Turner (Australia)
09.00 – 09.15: #C91 Longitudinal quantitative proteomics reveals distinct biochemical signatures of cortical and spinal cord neurodegeneration and recovery in TDP-43 transgenic mice | A Walker (Australia)
09.15 – 09.30: #C92 Golgi dysfunction is an early event associated with TDP-43 pathology formation in ALS | B Berning (Australia)
09.30 – 09.45: #C93 Antioxidant drugs reveal the potential for patient stratification in motor neuron disease | C Allen (UK)
09.45 – 10.00: #C94 Intrathecal AAV9-SOD1-shRNA administration for ALS | P Allred (USA)
SESSION 8B
DYSPHAGIA AND NUTRITIONAL MANAGEMENT
08.30 – 08.50: #C95 Loss of appetite is associated with a loss of weight and fat mass in patients with ALS | F Steyn (Australia)
08.50 – 09.10: #C96 Dietary intake in patients with MND: Assessment relative to disease severity and resting energy expenditure | V Chachay (Australia)
09.10 – 09.30: #C97 A multidisciplinary pilot study to trial the feasibility and effect of swallowing exercises and diet among people with ALS | V Flood (Australia)
09.30 – 09.50: #C98 Validation of the Physiologic Risk Index for Swallowing Impairment (PRISM) in ALS | E Plowman (USA)
SESSION 9A
IMMUNITY AND INFLAMMATION
10.30 – 10.50: #C99 The role of innate and acquired immunity in neuroinflammation of ALS mice | K Yamanaka (Japan)
10.50 – 11.10: #C100 Immunosuppressive functions of M2 macrophages derived from iPSC of ALS patients | W Zhao (USA)
11.10 – 11.30: #C101 MCP1-CCR2 and neuroinflammation in the ALS motor cortex with TDP-43 pathology | H Ozdinler (USA)
11.30 – 11.50: #C102 Microglial galectin-3 in the spinal white matter is a key molecule for motor neuron degeneration in ALS | S Hayashi (Japan)
11.50 – 12.10: #C103 Using patient-derived microglia to investigate neuroinflammation in MND and provide a platform suitable for patient-specific drug screening | H Quek (Australia)
12.10 – 12.30: #C104 A nanoparticle-based strategy for treating neuroinflammation in MND | A Wright (Australia)
SESSION 9B
RESPIRATORY SUPPORT
10.30 – 11.00: #C105 The multidimensional nature of respiratory failure in ALS | C Morélot-Panzini (France)
11.00 – 11.30: #C106 The management of disordered breathing in MND | D Berlowitz (Australia)
11.30 – 11.50:: #C107 Slow vital capacity as a prognostic factor in ALS: A population-based study | A Calvo (Italy)
11.50 – 12.10: #C108 A feasibility study of an ambulatory non-invasive ventilation set-up model using intelligent volume assured pressure support mode in MND | W Chow (Australia)
12.10 – 12.30: #C109 The physiological effects of a single session of lung volume recruitment in people with MND | N Sheers (Australia)
SESSION 10: JOINT CLOSING SESSION
14.00 – 14.05: Poster Prizes Announcement
14.05 – 14.15: Invitation to Montreal 2020
14.15 – 14.50: #C110 The dawn of Brain Computer Interfaces | T Oxley (Australia)
14.50 – 15.00: Patient Impact Award
15.00 – 15.20: Healey Center Award
15.20 – 15.30: Late breaking news
---
Symposium Programme Committee
Kevin Talbot (Chair of Programme Committee), Professor of Motor Neuron Biology, University of Oxford
Tracey Dickson (Chair of the Biomedical Session), Professor of Neuroscience, University of Tasmania
Matthew Kiernan (Chair of the Clinical Session), Professor of Medicine, University of Sydney
Brian Dickie, Director of Research Development, Motor Neurone Disease Association
Nick Goldup, Director of Care, Motor Neurone Disease Association
Nick Cole, Head of Research, Motor Neurone Disease Association
Samar Aoun, Professor of Palliative Care, Perron Institute and La Trobe University
Bradley Turner, Head of MND Laboratory, University of Melbourne
Justin Yerbury, Professorial Fellow in Neurodegenerative Diseases, University of Wollongong