Like the previous two years, we are excited to host a virtual ePoster hall this year which will display all poster presentations in a searchable grid and will be available to access on-demand throughout the event.
Attendees can view each author(s)' research through their pre-recorded three minute 'lightning explainer' video and poster PDF handout. The ePoster hall will also include a chat and notes feature for each presentation that attendees and poster presenters can use. There will also be the opportunity for virtual networking and discussions with presenters during the designated live poster sessions.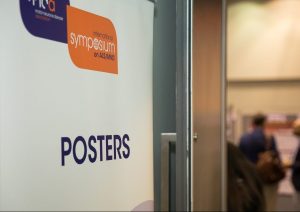 Interested in presenting a poster?
Researchers who would like to present at the Symposium must submit an abstract – an overview of their research and findings. Once abstracts are submitted, our Programme Committee review the submissions and decide who would be given the opportunity to present their work at the event.
Further details, including abstract submission instructions, will be provided in the near future.
In addition to posters, there are a very limited number of oral presentation slots available for submitted abstracts that are deemed suitable by the Symposium Programme Committee. During the abstract submission process, you will be asked if you would be prepared to accept one of these oral presentation slots should you be offered one.
Contact us
For any abstract-related queries, please use the form below. Please DO NOT submit your abstract below - it will not be reviewed.