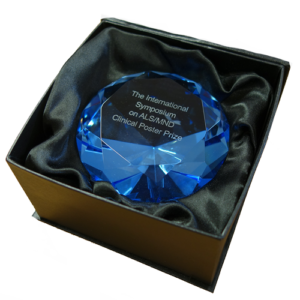 To celebrate the high quality of clinical and biomedical posters presented by early-career researchers during the symposium, the MND Association presents the International Symposium on ALS/MND biomedical poster prize and clinical poster prize
The winners of the poster prize are announced during the Joint Closing session of the Symposium, where the winners are presented with a certificate, engraved glass paperweight, and (since 2018) they will also be offered a free space at the upcoming Symposium. One prize is given for the clinical poster and one for the biomedical poster.
This is an exciting opportunity, which raises the profile of the posters and enables winners to add the award to their CV.
Criteria and eligibility
Who can enter?
Presenting authors aged 35 years or under on 5 June 2020, or within three years of their PhD award are eligible to enter their abstract for the poster prize during the abstract submission process. The eligibility criteria apply to the person presenting the poster during the Poster Prize judging at the Symposium. If the presenter does not qualify, the poster will not be considered for the prize. Please see the Poster Prize competition criteria (in the conditions of acceptance) for full details.
How do I enter?
Eligible poster presenters will need to have indicated that they want to be considered for the Poster Prize during the abstract submission process (Date TBC). To do this, tick the corresponding box within the online abstract submission form.
• Presenters whose abstracts have been shortlisted will be notified in autumn 2020.
• Work in progress/ care practice poster abstracts will not be considered.
• Late abstracts will not be eligible for the Poster Prize.
• Only poster abstracts submitted by the abstract deadline and accepted for publication in the Symposium journal supplement will be considered for the Prize.
• Indicating that you are eligible for a Poster Prize will not affect your likelihood of being chosen for an oral communication.
How will the competition be judged?
Initially, the abstracts will be assessed on the quality of their content to generate the clinical and biomedical poster shortlists. The short-listed posters will be viewed during the Symposium, and assessed based on the poster content, design and layout, presentation of the poster and the presenters' ability to answer questions, before the judges make their final verdict.
Is there anything the short-listed presenters should know?
All shortlisted candidates will be required to submit a PDF of their poster before the conference. The winners of the clinical and biomedical Poster Prize will be announced during the Joint Closing session on Friday 11 December 2020, where the winners will be presented with a certificate and an engraved glass paperweight. We would therefore encourage all short-listed presenters to attend this session.
Winners of the 2019 Poster Prize
Clinical Poster Prize
The winner of the Clinical Poster Prize was Ruben van Eijk (University Medical Centre Utrecht, Netherlands) for his poster 'Optimising the ALSFRS-R as a clinical trial endpoint'  (CLT-14)
Biomedical Poster Prize
The winners of the Biomedical Poster Prize were Laura Reale from University of Tasmania, Australia, for the poster 'Does mislocalised TDP-43 in excitatory neurons of the motor cortex cause ALS-like pathology in the spinal cord?' (IVV-32) and Nora Markus, University of Sheffield, UK, for 'AI-led drug discovery identifies Nilotinib as a lead compound for ALS' (TST-41)