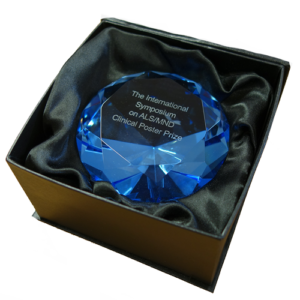 To celebrate the high quality of clinical and biomedical posters presented by early-career researchers during the symposium, the MND Association presents the International Symposium on ALS/MND biomedical poster prize and clinical poster prize
The winners of the poster prize are announced during the Joint Closing session of the Symposium, where the winners are presented with a certificate, engraved glass paperweight, and (since 2018) they will also be offered a free space at the upcoming Symposium. One prize is given for the clinical poster and one for the biomedical poster.
This is an exciting opportunity, which raises the profile of the posters and enables winners to add the award to their CV.
How will the competition be judged?
Initially, the abstracts will be assessed on the quality of their content to generate the clinical and biomedical poster shortlists. Presenters whose abstracts have been shortlisted will be notified in autumn 2019.The short-listed posters will be viewed during the Symposium, and assessed based on the poster content, design and layout, presentation of the poster and the presenters' ability to answer questions, before the judges make their final verdict.
Is there anything the short-listed presenters should know?
All shortlisted candidates will be required to submit a PDF of their poster before the conference. The winners of the clinical and biomedical Poster Prize will be announced during the Joint Closing session on Friday 6 December 2019, where the winners will be presented with a certificate and an engraved glass paperweight. We would therefore encourage all short-listed presenters to attend this session.
Biomedical Shortlisters
Emily McCann – Macquarie University, Australia
Laura Reale – University of Tasmania, Australia
Loren Flynn – Murdoch University, Australia
Cyril Quessada – University of Strasbourg, France
Germana Cocozza – Sapienza University, Italy
Nora Markus – University of Sheffield, UK
Clinical Shortlisters
Kota Bokuda – Tokyo Metropolitan Neurological Hospital, Japan
James Bashford – King's College London, UK
Kate Wannop – King's College London, UK
Ruben van Eijk – University Medical Centre Utrecht, Netherlands
Kristiana Salmon – Montreal Neurological Institute and Hospital, Canada