Abstracts for the platform and poster presentations from the 30th International Symposium on ALS/MND are published in the open access Amyotrophic Lateral Sclerosis and Frontotemporal Degeneration journal supplement and can be downloaded from the Taylor and Francis website (volume 20, S1, November 2019).
See below for individual PDF documents (accessible from your laptop, desktop, mobile or tablet). You will also be able to view abstracts on our official Symposium app soon under the 'Programme' tab.
Please note: This year we have embraced the challenge of staging a more sustainable event by not producing printed abstract books. This decision has been supported by an overwhelming amount of like-minded responses in surveys from delegates in the past few years.
If you wish to have a physical copy of the abstract book at the event, please download and print it from below in advance of the symposium.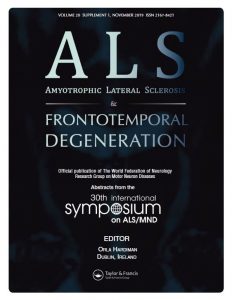 Platform Presentations
View the complete printable Abstract book, where you can find the abstract for each of the 110 talks presented at this year's Symposium, as well as the platform indices and adverts.
Abstract book (pdf)
Please allow a few minutes for the file to load as it will depend on website traffic.
Work in Progress poster presentations
Abstracts for Biomedical and Clinical work in progress are not published as part of the journal supplement, but can be accessed as a PDF document here:
Work in progress abstracts
Some of the posters and presentations from previous Symposia are saved on the F1000 Open Research publishing platform.