The official app for the 30th International Symposium on ALS/MND is here!
Programme, abstracts and speakers' information all in one place. Browse poster abstracts, chat to other delegates, discuss and rate individual talks. Download the Guidebook mobile app before the event to get the full Symposium experience.
Features
• Access full programme of this year's Symposium, and personalised agenda, where you can create your own itinerary of sessions you want to attend
• Read abstracts for platform and poster presentations
• Locate posters during the poster session
• Receive live notifications about changes to the programme (e.g. location or speaker)
• Rate and discuss platform presentations
• View detailed floorplan of the venue
• Send private app messages to other delegates
Please note that features will be added gradually as the Symposium approaches.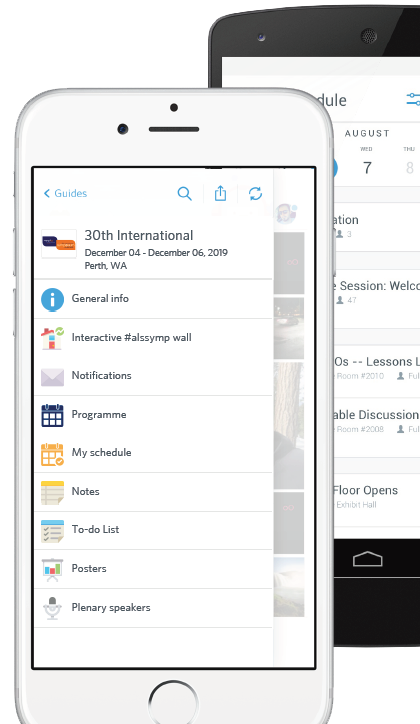 In order to access all features of the app, you will need to be create and log in to your Guidebook profile. This will allow you to create your personalised agenda, comment on and rate talks and interact with others - you will not be able to message other app users unless you are logged in. If you used Guidebook previously, you can use the same log in details. 
For detailed information about how to download the app and explore its full functionality, make sure to read the App instructions guide.
Download the app
To access the app, please download Guidebook from Google Play (for Android devices) or the App Store (for iOS devices). Once you have installed and opened Guidebook, search for '30th International Symposium' in the 'Guides' tab and select 'Get'.
Software requirements
The Guidebook app works on Android and iOS devices (including tablets). For any other devices, some of the features including the programme will be available via the Symposium desktop page.