Are you a social media whizz? Do you have a flair for writing? Or are you looking to develop these skills? If so, the newly launched Symposium Communications Ambassador Programme is for you!
Every year, the International Symposium on ALS/MND showcases the incredible research happening worldwide. We share regular updates on the research presented at the Symposium with the wider MND community, including people living with and affected by MND. Now that the Symposium is returning to an in-person event, with a packed programme, we are looking to increase the number of updates we can produce for the non-scientific audience.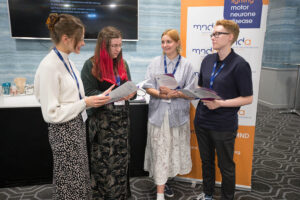 We are looking for enthusiastic international early career researchers (ECRs) to become Symposium Communications Ambassadors and help us bring ALS/MND research into the spotlight. Ambassadors will have the opportunity to let their creativity run wild to create social media and blogs posts that make the research accessible to all. We will be on hand to provide training and support, to help guide and develop our Ambassadors.
This is an exciting opportunity for ECRs to develop their communication skills, as well as raise their profiles within the MND research community. As a thank you, Ambassadors will receive a 50% discount to the 35th International Symposium on ALS/MND in 2024.
For more information, please see the FAQs below.
Applications to the Symposium Communications Ambassador Programme are now closed. Successful applicants will be contacted by 25 September.